30% OFF TODAY ONLY + FREE SHIPPING
30% OFF TODAY ONLY + FREE SHIPPING
New 2-in-1 Wood, Tile & Glass Cutter - Portable Construction Hand Tool for Perfect Cuts
Portable & Easy to use.. Is Right Here!
🎁As a Perfect gift for professional builders, craftsmen, engineers, and DIY., this limited stock Cutter will be perfect!
2-in-1 Glass, Wood & Ceramic Tile Cutter!
 These 2-in-1 cutter is like a special tool that can help cut glass, wood, and ceramic easily, making it great for people who like to build things or fix stuff..
No more fuss, no more mess – just a flawless finish cut every time.
HURRY! 3 pcs In Stock (Updated: [wpdts-date format="jS F" days="0"];

[wpdts-time format="g:i A" minutes="-3"]

)
Order Before 11:59pm today to

Enjoy 30% Discount + Get Free Doorstep Delivery 
See The 2-in-1 Glass, Wood & Ceramic Tile Cutter! Kit In Action...
Reduces the Need for Multiple Tools: It eliminates the need for separate tools for cutting glass, wood, and ceramic tiles, which can clutter workspaces and be expensive.

Saves Time: Using a single tool for different materials is faster and more efficient, as it avoids the time-consuming process of switching between tools for various cutting tasks.

Enhances Precision: This tool allows for more precise cuts in glass, wood, and ceramic, ensuring that the pieces fit together properly in DIY projects.

Convenience: It provides a convenient solution for DIY enthusiasts and professionals who work with these materials, making their projects more manageable.

Reduced Cost: By not having to purchase separate tools for each material, it saves money and reduces the investment required for different cutting tasks.

Versatility: This tool increases versatility, as it's suitable for a wide range of DIY projects involving glass, wood, and ceramic materials.

Simplifies DIY Projects: It simplifies the process of cutting and shaping materials, making DIY projects more accessible for people who may not have a wide range of tools at their disposal.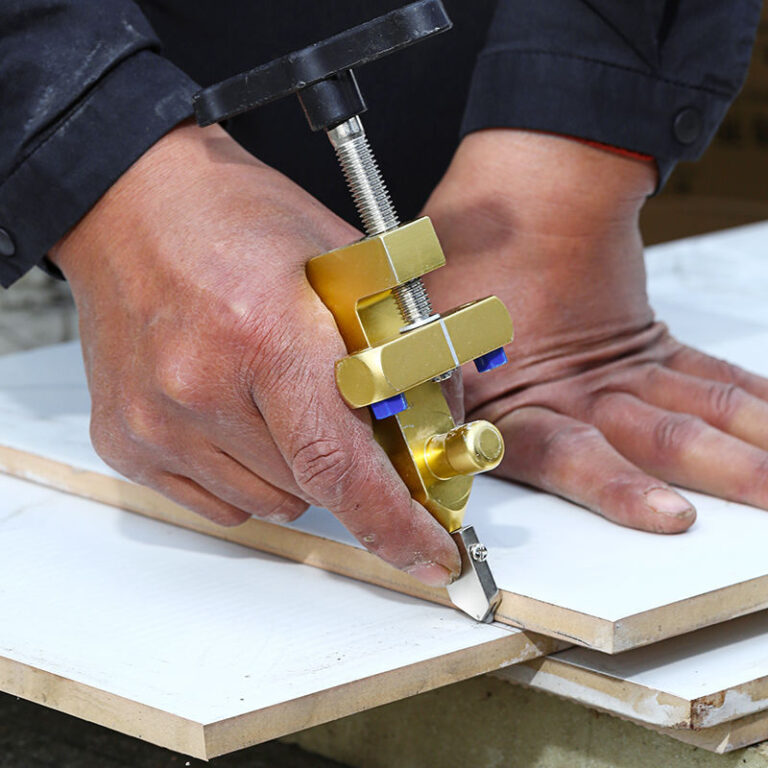 Advantage of the tile cutter –The structure design is reasonable, which effectively avoids the damage caused by the manual separation of workers after cutting glass and tiles, and avoids the damage to tiles and glass when using other tools for forced separation, which brings great convenience to people's daily work.
Avoid the damage caused by the manual separation by workers
It has a sharp cutting glass knife that cuts hard objects easily. With precise marking device for making a scratch. The glass cutter is easy to hold and reduces wrist fatigue, letting you score glass with little effort and gives you clean cuts.You can add oil in the glass cutter to make it even more durable.
It suitable for cutting glass, common ceramic tiles, wall tile, facing tile, glazed tile,mirror and so on.
Portable & Easy to use –The total weight of the set is 300g, even if you are working alone, you can easily operate it. When you use it, you just need to draw the shape you want to cut on the tile, and then use the pressure pliers to slowly rotate it.